We're pleased to announce that Readysell 8.45 (codename Herdsman) is about to begin rolling out to all of our Readysell 8 customers. This release is again focused on improvements to office products industry integration, the service module, and fulfilling some of our top user requests. We've managed to incorporate some great new features which you'll no doubt be able to incorporate into your business, so we encourage you to take some time to review these release notes to understand how you can make use of them.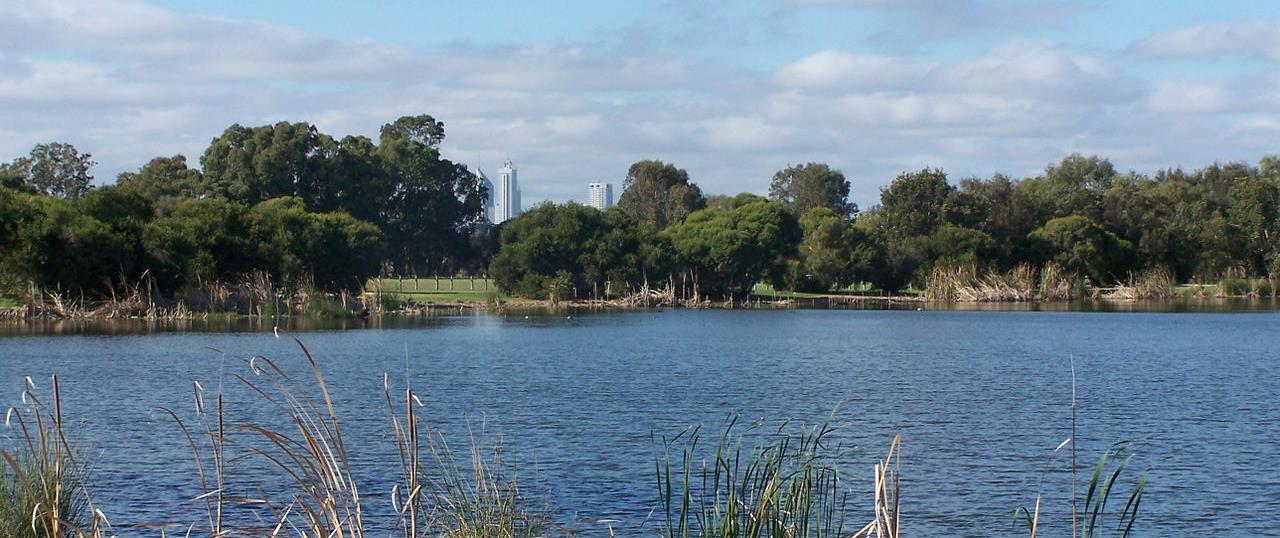 Know if your messages are being read with outbound email tracking
One of the top requested features on our Feature Suggestions forum was to be able to see when customers or suppliers have read emails sent from Readysell. We've improved our integration with Mailgun to provide this feature. Now, when a recipient opens an email sent from Readysell, you will be able to see the "Read" flag is checked in the "Messages" section.

You will also have greater visibility into when emails are bounced due to invalid email addresses, or issues with the recipient's mailbox.
Make your Alloys purchases faster with EDI ordering
Readysell has integrated with Alloys to provide hybrid EDI ordering. This means you'll be able to get your order in quicker and with the confidence that the stock you require is available. After you receive Readysell 8.45, someone from our team will be in touch with you to assist you with setting up this useful and time-saving integration.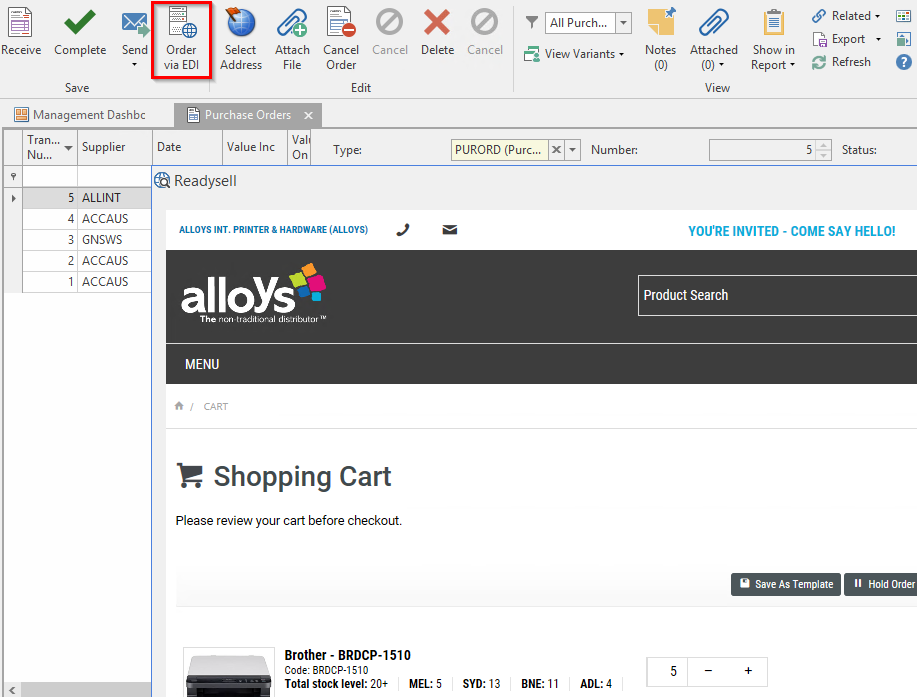 Stock level information for Alloys is already available via the Readysell Supplier Stock Service (RS3). If you require assistance in using this feature, please contact our support team.
Better manage margins by manually setting cost prices on quotes and orders
Sometimes when you're quoting a customer, you may know the exact cost of an item and want to use this as a basis for your quote, but don't want to change the cost on the product itself. To allow this scenario, we've now added the option to set a "Manual Cost" on a line when creating sales quotes and orders. Once you set a manual cost, it will be stored in the "Manual Cost Ex Tax" field on the sale order line and used for calculating the margins, markup and GP% for that quote or sale.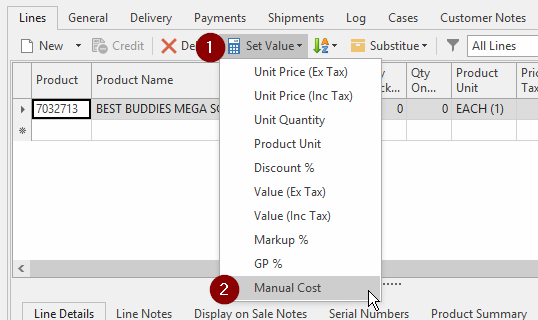 Keep in mind that the cost will be replaced by FIFO cost when the sale shipment is posted. The cost override on the quotes/orders is for quote preparation only.
Save time with improved machine templates
To enable customers to more quickly create new machines, we've created a new machine status called "Template". Machines that are marked as "Template" status will not be considered for MPS or servicing, but can easily be copied to create new machines when you need them.
Prevent fulfilment issues with improved back order visibility
We've heard feedback that it can sometimes be tedious to determine whether a particular is on back order, and this can lead to mistakes. To rectify this, we've made sure that "Sales Back Orders" and "Outstanding Purchase Orders" tabs are available on all sale, service and purchase order lines. Whenever you select a line which has a product on back order, you'll be able to easily see the details in this tab.

Questions or comments?
Our documentation has been updated to reflect the latest changes, but we know that it can be tough to wrap your head around what's new and how it affects you. Please open a ticket at the Readysell Helpdesk and we'll be happy to help you out.
But wait, there's more…
We've also made a number of other improvements and under-the-hood changes. Here's a full list. If you'd like more details about any of the below items, please don't hesitate to get in touch with us through the Readysell Helpdesk.
12239 Allow for status of outbound emails to be reviewed from within Readysell
12293 On stop warning when entering payments for customers
13242 Allow pos to search for customers if there is contact name on card
13331 Add machine type "template" as an option in machine.status
13351 Make description on customer payments and supplier payments optional
13648 Allow linked service quotes to be created from service calls
13649 Add ability to apply price categories to a list of product categories
13650 Add ability to apply price category lines based on min and max cost rather than selecting min and max cost only from the price category header
13651 Add ability to apply price category lines as a discount +/- the price in another price level
13676 Add a "maximum" meter price type to allow meter prices to apply only after a specified quantity
13691 Add an association between products and the sale back order list view so you can drag a list of sale back orders onto transaction lines that contain products
13692 Add sale order and service order as items on the related button on purchase order lines
13703 Create APIs to enable purchasing in Readysell Go POS
13704 Enhance API to allow customer delivery address details to be added
13705 More tightly integrate Readysell Go and Readysell Go POS
13706 Allow alternate product IDs to be assigned to a specific site
13713 Add "Was Price" to shelf labels
13715 Allow the "Print Was Price" check box to be updated from price change runs
13740 Implement Alloys EDI ordering
13754 Move Core projects to .NET Standard
13755 Add invoice address to machine
13783 Error shows after dragging a tab back into main Readysell window
13808 Allow a manual cost to be entered on sale orders or service orders