We're pleased to announce that Readysell 8.48 (codename Kati) is rolling out to all of our Readysell 8 customers. Once again, this release is focused on service improvements and fulfilling some of the most popular requests on the Readysell Forum. We encourage you to take some time to review these release notes to understand how you can make use of them.
Important: API changes for third party integrations
Due to some underlying changes in the Readysell Server, customers who integrate with the following systems will require some changes to their configurations to ensure integration works as normal. A Readysell team member should get in touch with you to ensure this configuration change is conducted:
B2BE EDI
Mailgun
Print Audit
Any iCal-based calendars
Automate your document management with file attachment watching
For customers who have scanners that can automatically name files, you can now configure Readysell to watch a directory where these files are dropped and automatically import these attachments and associate them with the appropriate Readysell records. This can be done by using either the transaction number or the barcode on the scanned documents. Now, you'll never lose those important documents.
Avoid confusion with purchase order improvements
You'll now be able to manually mark a purchase order as sent – automatically updating the status to "In Progress". You'll also be able to re-open a purchase order if you've made a mistake.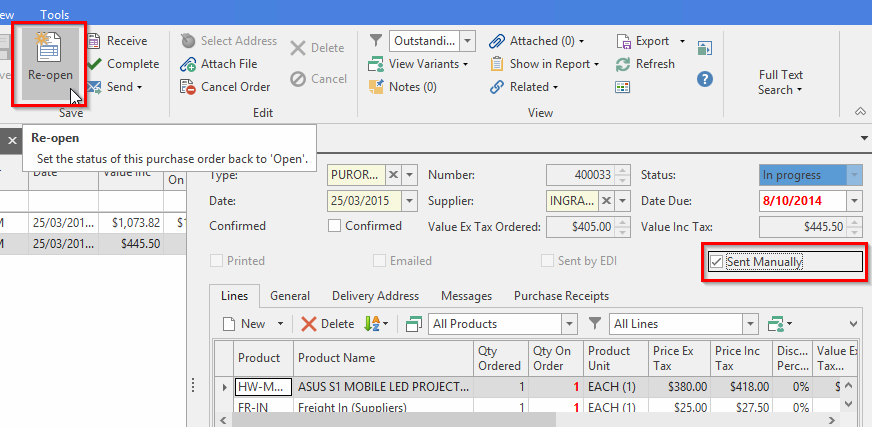 Improve your service agility with mobile app improvements
Technicians can now see unassigned service calls and calls assigned to other users in the mobile app. Now, you won't need to have a call re-assigned for another tech to be able to pick it up and work on it.
Customise the overdue notice on your customer statements
Readysell's default statement shows a notice at the bottom if your customer has any overdue open items. We've added some system references that allow you to change the wording of this notice and change the balance threshold that needs to be reached before the notice is shown.

Import meter charge spreadsheets from Canon and Fuji Xerox into meter count runs
We have added the ability to automatically generate meter count runs based on Recipient Created Tax Invoices (RCTI) from Canon, Canon CSG and FXP. For customers with relationships with these organisations, you'll no longer have to type in counts manually each month.
But wait, there's more…
We've also made a number of other improvements and under-the-hood changes. Here's a full list. If you'd like more details about any of the below items, please don't hesitate to get in touch with us through the Readysell Helpdesk.
11405 Provide ability to view calls assigned to other technicians and unassigned calls
13317 Provide a tool to automatically import attachments into Readysell
14117 Add support for data imports for machine meter counts including Canon RCTI List, FXP and CSG
14191 Increase the number of decimal places on meter prices
14192 Allow any meter to be charged to a customer on meter charge runs even if the machine is for a different customer
14205 Show last meter reading and average monthly count on meter list view
14259 Allow customisation of the overdue notice on statements
14260 Add Show Related machine from serial numbers
14261 Add a Related button from price book to products
14262 Allow purchase orders to be marked in progress or re-opened
14264 Create filters on contracts for different contract types
14267 Move minimum supply level for replenishment to the meter
14270 Allow pick function to sort potential matches in alphabetical location order
Questions or comments?
Our documentation is in the process of being updated to reflect the latest changes, but we know that it can be tough to wrap your head around what's new and how it affects you. Please open a ticket at the Readysell Helpdesk and we'll be happy to help you out.