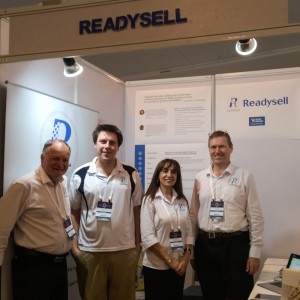 Readysell was privileged to be able to attend the Office Brands Fiji 2014 "New Horizons" Expo in Denarau as the Office Brands Preferred ERP Supplier a couple of weeks ago, and we'd like to send out a quick update.
As well as being able to catch up with many of our valuable and inspiring customers (and meet some new faces), we were also able to talk about some of the new and exciting recent and upcoming developments for both Readysell 7 and Readysell 8.
For those that missed out (or those who may have had a bit too much kava the night before) we're providing electronic copies of all the material we presented and distributed. This includes:
Tips and tricks for Readysell 7
Brochures outlining the benefits of Readysell 8 and Readysell Mobile
Introductory presentation of Readysell 8
These can all be downloaded from our Support Centre.
You may have also noticed we had a demo video running at our stand highlighting some of the lesser known capabilities of Readysell 8. We've uploaded this video to YouTube, allowing you to review it at your leisure. We hope that this can help inspire you to explore some of the more advanced capabilities of Readysell 8.
Once again, vinaka to Office Brands and to all of our inspiring customers. It's been great to catch up. Here's to New Horizons!