We're pleased to announce that Readysell 8.43 (codename Forrestdale) is now rolling out to all of our Readysell 8 customers. This release is focused on performance, service module and Readysell Go improvements, but as usual, we've managed to throw in some extra bits as well.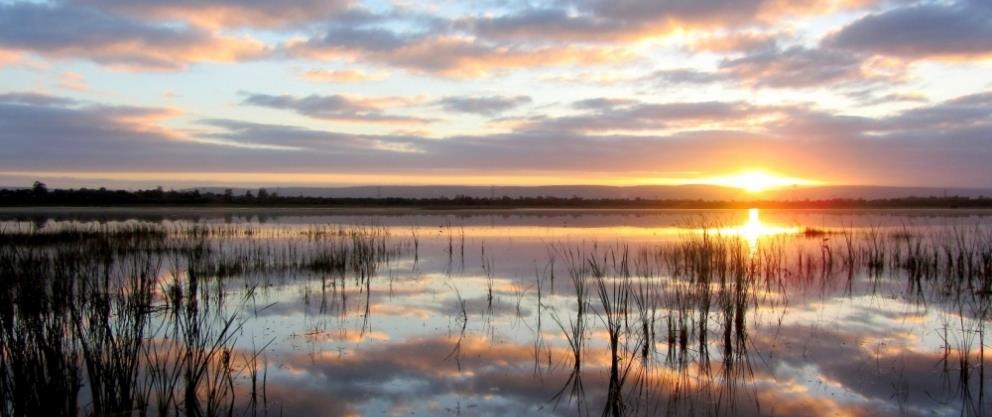 Quickly spot what's important with Appearance Rules
For many years, one of Readysell's most popular features with dealers and their teams has been the ability to set your own colour and highlight rules to highlight important information and exceptions on lists. Conditional formatting has allowed you to highlight the information important to you and your team. "Conditional Formatting" allowed you to create special rules to display grid data in custom colours to help highlight important information. We listened to your feedback about how this popular feature could be made even better. In response to your suggestions we have replaced "Conditional Formatting" with an even more powerful and accessible feature, being the new "Appearance Rules" button. All the features you liked about Conditional Formatting are still there and are now easier to use.
Appearance Rules can be accessed through a convenient button in the ribbon on or toolbar on any list view. When you click the button, you can add as many rules as you like. Each rule can apply to an entire row (just leave the * in the Target Items field), or specific columns.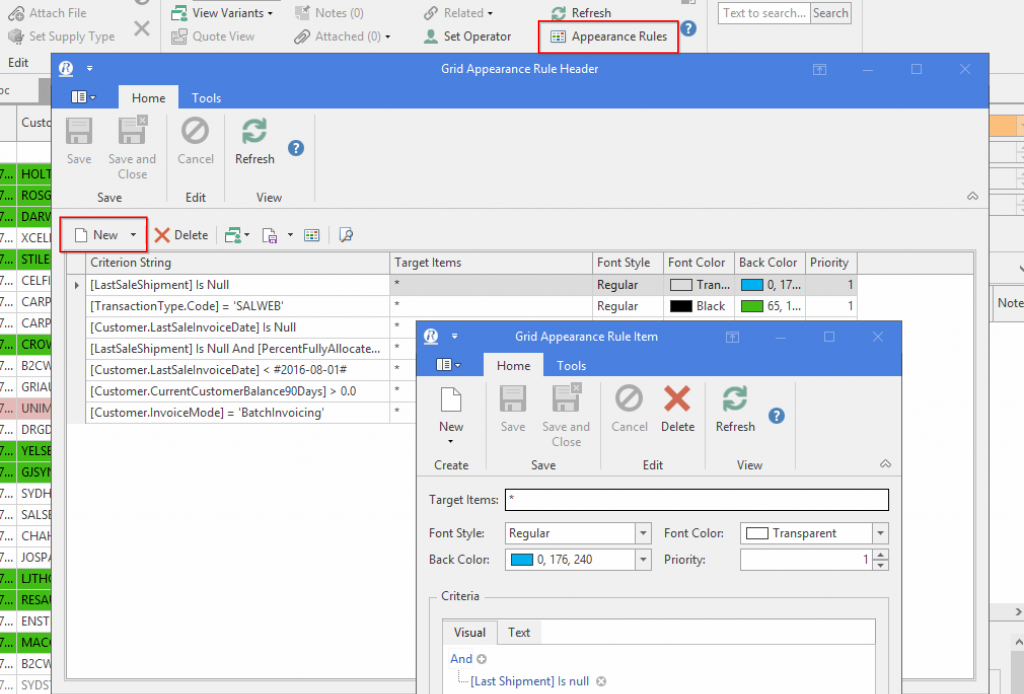 Rules apply to all users of the system, so you no longer have to worry about copying around screen customisations to share your formatting. We've done our best to migrate your existing Conditional Formatting rules to Appearance Rules, but if you find that it hasn't worked quite right, please get in touch with us and we'll help you out.
This is one feature of the system which is definitely best practice. If you need to know more or are not currently using conditional formatting, please contact the support team at Readysell. We would be happy to explain some of the ways Appearance Rules can benefit your business.
Stay productive when out of the office with Readysell Go improvements
We've done more work to streamline our web version. Readysell Go is now even more useful when you're on the road and want convenient access to your Readysell system. If you're not sure of how to access your Readysell Go system, you can find a handy link at the Readysell Customer Portal.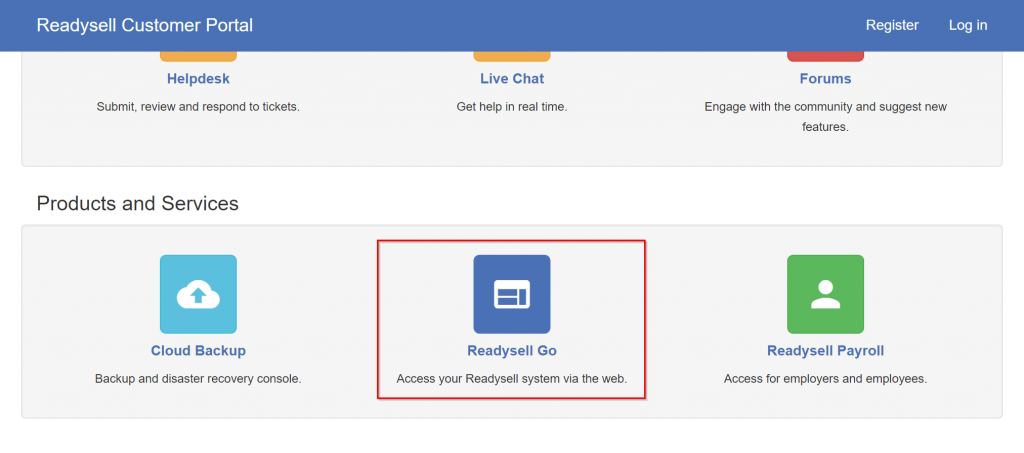 Once you have used Readysell Go once on a device, you can save a link to Readysell Go in your favourites. Giving you and your mobile team members access to Readysell when they are on the go. It only takes a minute to open Readysell Go the first time and save the link giving you easy access in the future.
Handle advanced toner pooling scenarios with improved toner tracking
We've improved our toner tracking capabilities to allow the creation of "toner pools". Customers can how maintain one or more pools of spare toners, which you can individually track, so that Readysell knows exactly when to send additional supplies.
Toner tracking is an important new feature of the service module. If you are servicing machines, this is a feature you should be using. Contract Readysell support to discuss how this new feature can benefit your business.
Understand the status of your devices with machine logs
Readysell will now record alerts sent by machines in a handy "Log" tab. For how, this is handy for monitoring and reporting, but in the future we will be able to use this data to help drive service processes such as preventative maintenance.
Upcoming .NET Framework requirement changes
You may notice a message like this pop up when you start Readysell: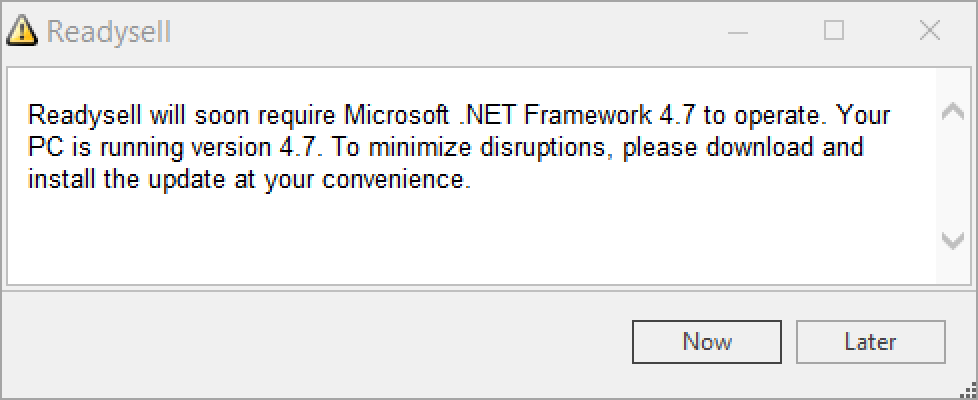 This is just a friendly warning that in the not too distant future, Readysell will be update and your system should have its version of .NET updated. You don't have to do it right away, but it's worth doing when it's convenient to avoid potential downtime later. If you don't see this message, that means everything is already up to date.
Questions or comments?
Our documentation has been updated to reflect the latest changes, but we know that it can be tough to wrap your head around what's new and how it affects you. Please open a ticket at the Readysell Helpdesk and we'll be happy to help you out.
But wait, there's more…
We've also made a number of other improvements and under-the-hood changes. Here's a full list. If you'd like more details about any of the below items, please don't hesitate to get in touch with us through the Readysell Helpdesk.
11420 Process alert messages in emails sent by machines
12451 Add Product Retail Label (80mm x 25mm) Pack Break report
12921 Better handle multiple email addresses per customer
13168 Show note from purchase invoice on remittance advice
13205 Toner tracking from a central store stage 2
13206 Meter price groups to allow multiple groups of prices, products and charge to for meters on any machine
13208 Meter pricing and quantity consolidation options
13237 Update solution structure for .NET 4.6
13255 Add a related button to the list of associated/child machines on grand total machines
13315 Improve rules for allowing certain customers to be excluded from reminder emails
13316 Allow for quick customer creation from web orders
13318 Change "Linked In Profile" to "Social Media Profile" on contacts
13327 Remove reliance on "TAX-INVOICE-ADJUSTMENT-NOTE" and use workstation settings instead
13337 Replace formatting rules with appearance rules
13365 Remove Readysell.Database project
13366 Remove ServiceStack from POS client
13373 Upgrade to XAF 17.1
13405 Remove Swagger
13439 Add prompt for .NET 4.7 upgrade