We're pleased to announce that Readysell 8.57 (codename Torrens) is rolling out to all of our Readysell 8 customers. This release is focused on implementing some important backend enhancements, as well as actioning feedback from the Readysell forums.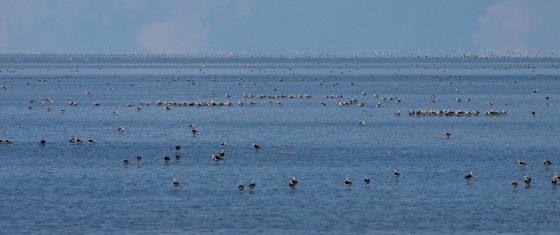 Always be up to date with the latest supplier stock data with RS3 2.0
We've updated the Readysell Supplier Stock Service (RS3) to ensure you always have the latest available supplier data in your system. Going forward, RS3 will be able to update the supplier codes and costs in your price book and product file on a daily basis, and supplier stock levels will pushed directly into your system to expand where you're able to surface this data within Readysell.
Automatically apply your early payment discounts to supplier payments
To ensure you take full advantage of your supplier's early payment discounts, you can now set up multiple supplier payment terms – one for regular payment, and another for early payment. When you pay early, Readysell can automatically apply your supplier's early payment discount to the supplier payment.

Communicate more effectively with internal line notes
Sales and purchases now have a new "internal" line notes field, which lets you add line notes which will be visible in the system and in internal documents (such as picking slips) only – not on external documents (such as delivery dockets or tax invoices). This is great when you want to call out special instructions about a specific line, but don't want this being shared with the customer/supplier.

Automate all your recurring billing with sale run enhancements
You can now set up sale runs to automatically recur every week, fornight, month, quarter or year. This is great for generating regular invoices for services. Just set a recurrance start date, whether you wish to recur based on weeks or months, and then how frequently you wish your recurrances to occur.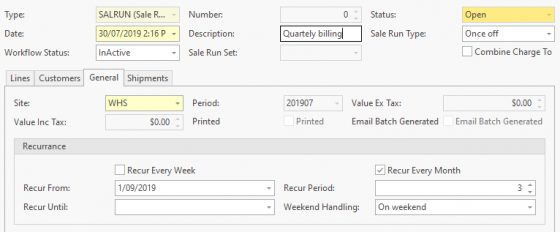 But wait, there's more…
We've also made a number of other improvements and under-the-hood changes. Here's a full list. If you'd like more details about any of the below items, please don't hesitate to get in touch with us through the Readysell Helpdesk.
11411 Add Start Period and End Period to sales cube report parameters
14972 Wrong tab is selected when creating a new sales order
15072 Allow automatic sale runs to be generated weekly and every X months
15073 Log individual messages for each mail recipient
15092 Differentiate "Pending" and "In Progress" stock transfers at POS
15102 Update database schema reflect nullability of application properties
15114 Allow customisation of the default machine status
15115 Allow file attachments to be sent by email
15116 Allow ETA on purchase back order lines to be modified from the purchase back order list
15117 Automatically calculate and apply early payment discounts for suppliers
15150 Allow for internal only notes to be added to sales and purchase order lines
15153 Ability to create a case from API
15154 Print service picking slip when service automatic warehousing runs
15155 Improve webhook functionality to support multiple webhooks and Integromat
15179 Add merge button to purchase run suppliers
15180 Make stock replenishment runs work with sites
15203 Import secondary supplier data directly from RS3
15210 Include payment details on pro forma tax invoice
15211 Update workstation settings to make configuration on Cloud easier
15212 Invalid warning when entering shipments
15213 Remove old RS3 button on product-suppliers