Over the next few days, Readysell 8.20 will be rolling out to all Readysell 8 customers. In Readysell 8.20 we've aimed to implement a number of common customer requests. We'd like to take some time to highlight some of the key features and improvements we've included in this release.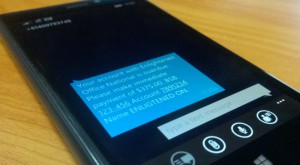 Improve cash flow with accounts receivable overdue reminders
Chasing up overdue accounts has never been easier. Set up to either automatically generated emails or SMS messages (or if you prefer, manually extract a batch with candidate customers). Customers will be sent a reminder that their account is overdue, the amount to be paid and the payment details.
Enhance your sales pipeline by seamlessly capturing prospects at point of sale
Never lose track of potential customers again. You can set up Readysell to automatically prompt you to capture prospect details (such as name, phone number and email address) whenever a cash sale is performed that exceeds a certain dollar value.
Improve customer communication with invoice layout customizations
Communicate special offers or competitions, business policy changes, upcoming events or anything else you can think of by placing it prominently in the header of your customer's invoice. You can even add customised fonts, colours and formatting.
Reduce staff retraining costs by tweaking the search algorithm
If you've recently converted to Readysell and your staff are used to search behaving in a different way, you can now tweak the algorithm to reflect your previous system's behaviour. Three levels of aggressiveness are available based on your preference.
Get up and running on U Rewards with loyalty product import
You can now have the full range of Office Brands U Rewards products automatically imported into your system, saving you the time and effort of manually entering in details when they are redeemed.
We're only getting started…
There's over 20 other improvements and new features in this new version. Here's a full list of changes. Our documentation is in the process of being updated to reflect the new functionality. If you have any questions, please open a ticket through our Support Centre and we'll be happy to help you out.
Contract pricing on sales orders, service orders and shipments is now determined by the transaction date.
Create an automated task to invoice pre-ordered products.
Do not allow estimated meter count to be used as the basis for another estimate.
Improve serial number entry using the barcode scanner.
Improve Office Brands OData integration.
Import loyalty points redemption products from OData
Allow existing workstation report settings to be expeditiously populated by a set of pre-defined settings.
Allow notes from transactions in closed periods to be archived. There is another filter for All Notes and Active Notes. You can archive notes in cards now. You can't delete notes in closed periods only open periods.
Add an Actions to apply a Discount percentage to Sales Orders, Service Orders and Sales Shipment headers and/or related sale lines. You can now apply discounts on selected lines by clicking on Set Value and adding a discount percentage.
Add 'charge to' to the related action for sales invoices. Can view charge to card from sale invoice.
Optionally allow full text search to be adjusted to be more aggressive at matching text, resulting in more matches but more false positives. Customer can now adjust how aggressive the full text search is, so that they don't have to enter a "%" character before each word when doing a full text search.
Allow Categories, Locations and Products to be flagged as not discountable. This allows the user to prevent discounts on categories, locations and products where the price was already discounted.
Improve loyalty point validation on sale shipment line. Validation message now pops up giving you the option to use loyalty points to redeem this product.
Add an option to the "populate loyalty points" task to clear points before the start date. Tasks exists to "Clear Existing Points", this clears all existing points first. Then after existing points are cleared. Calculate points from the start date as per the existing code.
Improve Bank Reconciliation extract date validation so not to allow bank reconciliation for the current date.
Add product purchase history to the product detail view. Product detail view has a new tab 'Purchases by Period' which displays purchases made for that particular product for all periods available. This allows customer to see how a product has been performing.
Picking list now lists Kit order's Bill of Materials (BOM).
Allow prospects to be created from the new customer popup on sale orders, service orders and sale shipments. Option now to select "Is Prospect" customer when creating new customer card.
Allow users to change price level on sale orders, service orders and sale shipments. Manually overrides the price level on the sales order. (Example: The user enters a sales order. The customer is set to the level 1 price level. The user negotiates a special deal with the customer. They change the price level on the sale order to government price level. All the sell prices that are not manual sell prices on the sale order lines recalculate to government price level).
We need a new detailed picking slip. Picking slip has new headers. The additional columns on the report include; GP%, Value including tax, Quantity on hand for the product site, Total value inc tax and Total GP %.
Add a message field in the form of an html note to tenders. Print messages (administration> tenders) on sale invoices depending on the tenders associated with the sale invoice.
Add a criteria on sale order to sites in respect to automatic generation of sale shipments from sale orders. Optional criteria added to sites in respect to auto generation to sales shipments.
Improve quotation form report layout.