We're pleased to announce our new partnership with IFS SmartFreight®, the market leading, multi-carrier, Transport Management System (TMS) with thousands of clients worldwide, currently shipping well over 18M consignments and $45M AUD of freight per annum. IFS SmartFreight® streamlines your supply chain providing full visibility of all freight movements.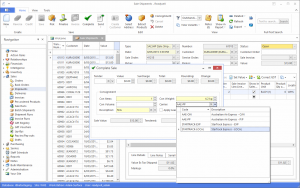 Readysell integrates IFS SmartFreight® seamlessly into your existing shipments workflow; reducing errors from manual rekeying and improving the efficiency of your warehouse. Simply fill in the necessary fields on the "Complete Sale" screen, and your consignment will be sent directly to IFS, which can handle printing consignment labels from a large range of transport partners. You can even opt to have IFS SmartFreight® automatically select the best carrier based on least cost routing.
This new integration is available for all Readysell 8 customers today. To find out more, please contact Greg Payne at Readysell by calling (02) 9792-4439 or opening a ticket at our Support Centre.