In Readysell 8.30 we introduced Readysell Payroll, powered by KeyPay. Readysell Payroll is an online payroll system designed to make payroll simpler. It's quick to set up, easy to use, affordable and fully integrated into your Readysell 8 system.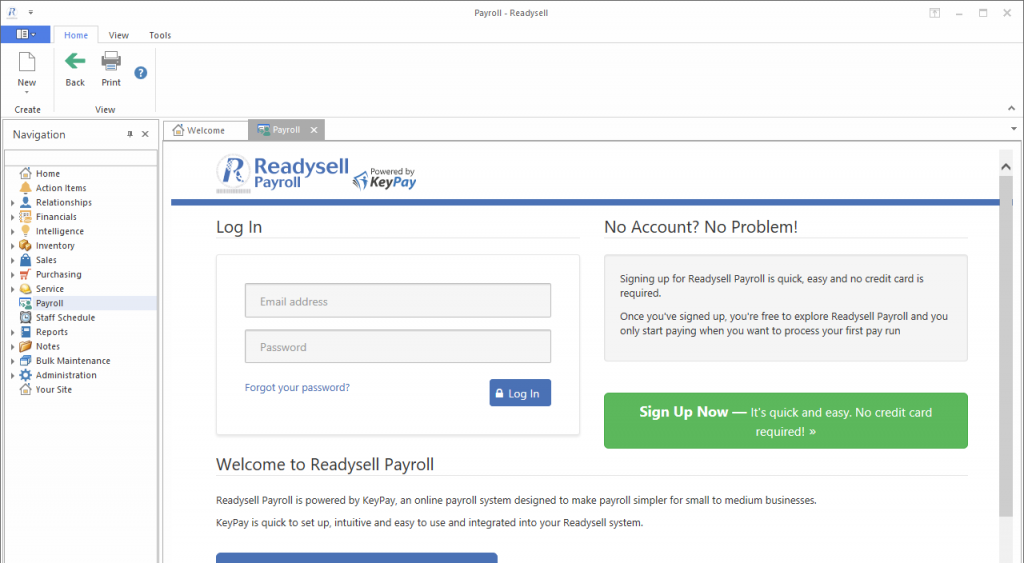 What's Included?
With unique features such as a cloud-based employee portal, time and attendance and automated superannuation, Readysell Payroll can drastically reduce your payroll overheads.
Compliant Awards

Use our growing library of modern awards to automate your payroll compliance.

Time & Attendance

Use the web kiosk to allow employees to clock on and off, on site, using any web enabled device.

Employee Scheduling

Scheduling with award-based shift costing will help to reduce your staffing costs

Flexible Payroll

Lots of easy to configure options make it easy to setup Readysell Payroll just to your liking.

Pay Conditions

Create your own award rule sets or EBA's to add compliance to your business processes.

Integration

Automatically import your pay runs into your Readysell 8 cashbook to streamline your payroll process.

Timesheets

Import timesheets into your payrun with a single click.

Automate

Simplify your payroll with automated super payments, termination and leave calculations.
Pricing
Readysell Payroll Standard

Readysell Payroll Plus

Standard payroll functionality
Timesheets
Quarterly superannuation payments
Submit ATO forms online
Unlimited employees

All features of the 'Standard' plan
Automated pay conditions
Pre-built Awards
Time and Attendance kiosk
Employee scheduling

per active employee

per active employee
Where do I sign?
Contact us today to get started.