We're pleased to announce that Readysell 8.60 is rolling out progressively to all of our Readysell 8 customers. This release is focused on implementing some important service enhancements, improvements to the framework of the whole application, and actioning bugs that have been reported over the last period.
New Feature Development
16151 – Added new task to automatically purge message logs

16332 – Readysell Integration to Shopify Order
Bug Fixed:
16403 – Fixed an issue where a user was unable to reset user's password with a custom password. Relates to ticket 33173

16412 – Fixed an issue where you could not increase qty Shipped or discount on Sale shipment lines. Relates to ticket 33589

16414 – (applicable to particular customers) Added preventative measure to avoid double up of Web Orders by checking the message first, instead of Order exists in Readysell. Relates to ticket 33577

*16415 – (applicable to particular customers) Fixed issue where the Readysell API could not Update net quantity on hand when a web order is sent back from POS. Relates to ticket 33561

16417 – Added handler for the Product Image API. Should handle + and %20 from the get image request.

16420 – Fixed issues that cause to error to appear when attempting to add style products to a contract.

16421 – We now prevent a contract applying to a sale order line when the sale order comes from the Readysell API. Relates to ticket 33660

16422 – (applicable to particular customers) Fixed issue where a web order could have a 1 cent discrepancy with Readysell. Relates to ticket 33467
*Note: the referenced POS is a standalone POS, only relevant for a particular set of customers. These features are not relevant to the Readysell POS functionality.
To check what version of Readysell you are currently running, click file up the top left of any screen and then click about.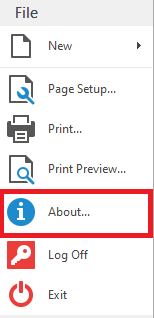 And the following window will appear, where you can compare your version number to upcoming release number above.