We're pleased to announce that Readysell 8.60.7XX is rolling out progressively to all of our Readysell 8 customers. This release is focused on implementing some important service enhancements, improvements to the framework of the whole application, and actioning bugs that have been reported over the last period.
New Feature Development
16450 – Added support for returning sale orders via webhook

16485 – Added message tagging for webhooks to ensure only one webhook is sent per transactional record

16496 – Added field WebOrderApproval to GetCards API

16509 – Implemented Eway Global Payment for Customer Payments

16510 – Added two new fields totalCalculatedValue and totalCalculatedValueExTaxinc to Contract Product Line API. These fields are calculatedValue, calculatedValueExTax * the product default sell unit.
Bug Fixed:
15765 – Fixed an error that could occur when the qty expected zeros on a purchase receipt and a resulting error appears around putting stock into negative for products not related to the receipt

16511 – Standardised terminology for MPS Service Auto Increase Charge logs

16497 – (applicable to particular customers) Fixed an issue where price levels based on current cost were not being flagged for upload
To check what version of Readysell you are currently running, click file up the top left of any screen and then click about.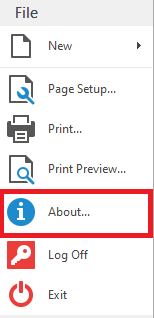 And the following window will appear, where you can compare your version number to upcoming release number above.