We're pleased to announce that Readysell 8.60.8XX is rolling out progressively to all of our Readysell 8 customers. This release is focused on implementing some important service enhancements, improvements to the framework of the whole application, and actioning bugs that have been reported over the last period.
New Feature Development
16442 – Added calculated cost inc and calculated cost ex for contract product lines where the contract price type is set to "Markup from cost". You will need to drag and drop these new columns to contract product line's view. You could also add them to your screen using screen customisation.

16521 – (applicable to particular customers) Added ability to markup from cost from price book's primary supplier instead of primary product supplier. Either for individual products or categories. For an inactive contract add the column "Use Price Book" and tick the column for the products or categories you want to mark up from pricebook.

16524 – Added new button "Set Value" for contract individual product lines. You can use the button to calculate contract product value from GP% value for Specific retail Inc or Ex. Once you input the GP% and press Ok Readysell will automatically recalculate the product value based on your chosen GP%.

16551 – Added return for transaction type, student qty and document group code to GetOrders Api call.

16552 – Added return for product keywords to GetProducts API call.

16533 – Added new task called Rebuild Style. Task gets the master style's product supplier costs and copies it to the applicable children style products.
Bug Fixed:
16094 – Fixed an issue where freight was being incorrectly added to a shipment when the order value was within the maximum "max value" field for a contract. Relates to ticket 24677

16530 – (applicable to particular customers) Fixed an issue where the Shopify Gift Card was not passing customer messages. Relates to ticket 36014

16531 – Fixed an issue that was preventing Auto Increase Price Setup being available for Bulk Update Runs.

16539 – Fixed an issue where modifying tenders required the Retail POS to be reopened. The tender is refreshed as a part of the "Refresh updated data" button.

16553 – Fixed Generate recurring transactions task, as it was adding toner to sales quotes and adding additional incorrect product lines.

16554 – Previously Webhooks only send once per record. Altered so that only sale orders send once.
To check what version of Readysell you are currently running, click file up the top left of any screen and then click about.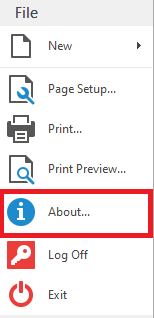 And the following window will appear, where you can compare your version number to upcoming release number above.