We're pleased to announce that Readysell 8.61.7XX is rolling out progressively to all of our Readysell 8 customers. This release is focused on implementing some important service enhancements, improvements to the framework of the whole application, and actioning bugs that have been reported over the last period.
New Feature Development
16727 – Enhanced Data Clean up to now also delete Message Logs with a subject "SendWebhook".

16747 – Integration with eCommerce platform WooCommerce.

16791 – RetailPOS – Integration with Tyro Eftpos.
16803 – RetailPOS – Integration with payment gateway Eway Global Payment.


Bug Fixed
16756 – (applicable to particular customers) Altered sending obsolete products to website using status from price book instead of the product status and now available for multisites.

16783 – (applicable to particular customers) Fixed an issue where new store products were created but weren't syncing to website as expected. Relates to ticket 43903.

16754 – Fixed validation error in product association type for buy one get one free.

16764 – Fixed an issue where if a contract was based on supplier it wasn't using the default buy unit from the product supplier. Relates to ticket 43438.
16730 – Retail POS – Fixed an issue where orders or sales could be duplicated due to race condition.
16730 – Fixed an issue where Purchase Receipt created with no lines after imported from xChangeIT.
To check what version of Readysell you are currently running, click file up the top left of any screen and then click about.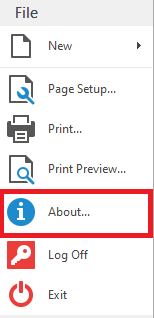 And the following window will appear, where you can compare your version number to upcoming release number above.