We're pleased to announce that Readysell 8.60.9XX is rolling out progressively to all of our Readysell 8 customers. This release is focused on implementing some important service enhancements, improvements to the framework of the whole application, and actioning bugs that have been reported over the last period.
New Feature Development
16507 – Updated Web Portal for Sale Quote to now include total value inc, link to your store's
website along with the contact information and the ability to change the note on the webpage. You change this via system types, SALES, QUOTE-WEB-NOTE. Relates to ticket 35128.

16512 – Added support for Ezi Debit. See documentation linked. https://readysell.atlassian.net/wiki/spaces/RSELL/pages/2407399435/Direct+Debit+with+Ezidebit+integration

16547 – Added daily recurrence for sale runs and the ability to use the extract customer criteria when the sales run is executing rather than at the initial creation of the sales run. When extracting customers there is now a tick box to enable this "Generate Customers using Criteria when process Sale Run". Relates to ticket 35967.

16558 – Added return for consignment tracking URL to GetOrders API call.

16568 – If scanning a barcode that has supplemental digits Readysell will remove the space when reading the barcode to create one barcode.

16577 – Added column "Exclude" to meter price that allows the option to exclude product meter price when calculating price increase.

Bug Fixed:
16566 – An issue was identified where during the absorbing of a product's cost into another product, it could potentially flip back to its original cost if you clicked the Correct GST button. We have taken out the absorb process from behind the finalise and complete buttons and change it into a manual process with a new button called Pro-rata. Relates to ticket 36659.

16569 – (applicable to particular customers) Altered the GetGiftVoucher API to try and match the requested voucher by appending a prefix if not found by using the gift voucher number.

16570 – Fixed an issue where the company name from Shopify web order was not flowing into the Invoice and IFS.

16578 – Fixed an issue when you split a sales order into multiple shipments could cause 1 cent difference in unit price. Relates to ticket 36638.

To check what version of Readysell you are currently running, click file up the top left of any screen and then click about.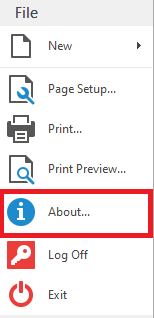 And the following window will appear, where you can compare your version number to upcoming release number above.