We're pleased to announce that Readysell 8.60.10XX is rolling out progressively to all of our Readysell 8 customers. This release is focused on implementing some important service enhancements, improvements to the framework of the whole application, and actioning bugs that have been reported over the last period.
New Feature Development
16461 – RetailPOS – Enhanced the syncing process between POS and server. Previously all POS would individually sync with the Readysell Server. Now if a site has more then one POS, we define a primary and secondary POS. The primary syncs directly with the Readysell server and passes the updated data to the secondaries POS. If the primary loses connection to the server the secondary POS will continue to sync, just directly to the Readysell Server.
16549 – Added the ability to return Services orders via the Get Service Order API.
16599 – Added additional return for product details to GetProduct API
Bug Fixed:
16579 – (applicable to particular customers) We have now hidden the "New" and "Delete" buttons for schedule events. As when you click add or remove a Technician user's resource using the "New" or "Delete" button it would create/delete a resource (Duplicating that user) instead of linking the user. Now the only options are "Insert" or Remove" as these create links between the resource and scheduled event.
16557 – (applicable to particular customers) Stores running multiple websites were experiencing an issue where their web categories were not syncing as expected. Relates to ticket 35261.
16572 – If supplier feed includes a numerical order unit the RS3 feed will create and update the supplier product unit with Box (numerical unit). Requires the system reference "Allow-RS3-UPDATE-UNITS" to be set to True.
16574 – Fixed an issue where if you'd partially ship a sale order, the sale shipment showed a different each price from the sale order. Relates to ticket 36638.
16581 – Fixed an issue where using the 'Copy parts' action button from within Products Parts was erroring. Relates to ticket 36985.
To check what version of Readysell you are currently running, click file up the top left of any screen and then click about.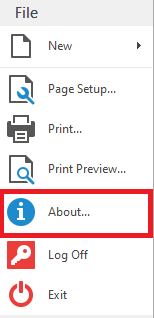 And the following window will appear, where you can compare your version number to upcoming release number above.