We're pleased to announce that Readysell 8.60.12XX is rolling out progressively to all of our Readysell 8 customers. This release is focused on implementing some important service enhancements, improvements to the framework of the whole application, and actioning bugs that have been reported over the last period.
New Feature Development
16597 – Added action button "Pro rata" to the purchase invoice module on the top ribbon. It allows for users to use the pro rata function from the purchase invoice. Relates to ticket 37862.
16614 – Added "Supplier Payment Reference" to supplier payments that are created manually. Matches the behaviour of customer payment reference field.
16639 – Purchase receipts only. Added a new drop down "Update all costs pro rata" when selecting cost update method. This new drop-down option will update the supplier cost p1 with cost from the supplier plus the calculated pro rata. Also added a new system reference to Purchasing, "PRORATA-SHOW-RESULT" where you can choose to prevent the pro rata pop up from showing.
Bug Fixed:
16535 – (applicable to particular customers) Fixed an issue when you untick "Display on website" it was not removing store products from certain integrated websites. Relates to ticket 36202.
16611 – (applicable to particular customers) Fixed an issue where price levels were not uploading correctly to certain integrated websites when a price category rule was changed.
16616 – Retail POS – Fixed an issue when selling a kit from the Retail POS the products within the kit were not deducting the supply on hand.
16618 – Changed the log for "autoincreasepricebeforefactor" and "autoincreasepriceafterfactor" to show/record the same number of decimal points available to be set in the "autoincreasepricebeforefactor" and "autoincreasepriceafterfactor" value columns. Relates to ticket 38440.
16631 – Fixed an issue where the Sales Run "Last run for" was recoding the wrong date for annual sales runs.
16632 – Retail POS – Fixed an issue causing the sale shipment to fail that could occur If a customer was created from the Retail POS without a phone number.
16639 – Fixed an issue when changing the "ValueExTaxReceived" was setting the price type to manual, causing the system to recalculate the value based on the product's supplier cost p1.
To check what version of Readysell you are currently running, click file up the top left of any screen and then click about.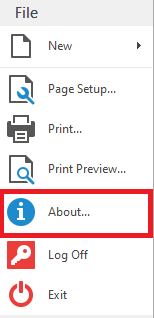 And the following window will appear, where you can compare your version number to upcoming release number above.